When it comes to workplace safety, employers first responsibility is to their staff but once workers are effectively protected, it's important to consider the potential risks to workplace infrastructure. This guide provides some basic information on what is required to protect your building and environment.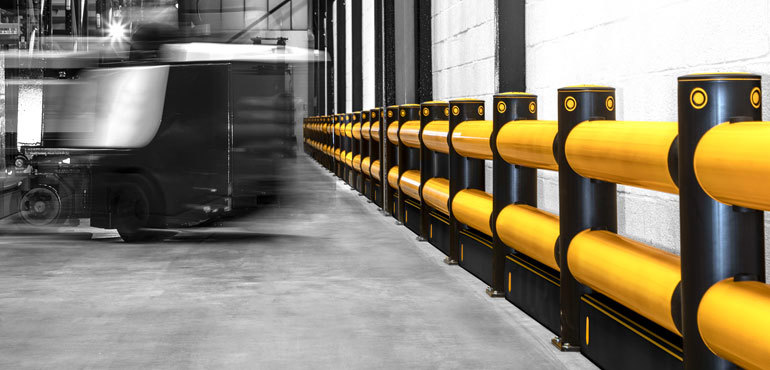 You can read the full article or jump ahead to a relevant section:
1. Protecting workplace infrastructure | Understanding the basics
It's easy to overlook infrastructure when it comes to health and safety but ignoring incidents where structural elements of the building are put as risk could lead to long-term issues. High volumes of vehicle traffic can make parts of buildings vulnerable to impacts or scuffs. Over time, this accumulated damage can start to have a serious effect on the structural integrity of those buildings.
Minor knocks and scrapes may seem insignificant, but they can add up over time to more substantial damage. Buildings are constructed to last, but they can fail. When they do, the consequences can be serious.
What does infrastructure mean?
When we talk about infrastructure in a workplace context, it refers to the fundamental elements of a workplace that enable it to function properly. This means:
Buildings
Walls and structural supports
Roads and floor surfaces
Power supplies – electricity, gas, oil, and water systems
Communication networks – phone lines, internet, and computer systems
Vulnerable areas of a building
When it comes to buildings and structural elements of a workplace, there are many vulnerable areas in a factory or warehouse building. It's important to identify these as early as possible.
Some examples include:
Walls and corridors
High-speed doors
Corners
Doorways
Columns and pillars
Loading docks
What should an employer do to keep workplaces safe?
When it comes to your place of work, it's important that it is properly protected. Employers are legally required to maintain offices and facilities to a certain level.
This includes:
Ensuring the building is in good repair
Ensuring a safe and comfortable work environment
Looking after equipment so that it works efficiently
Ensuring stairs, corridors and outdoor spaces are well-lit
Providing a combination of natural light (where possible) and local lighting for workstations
Correcting any dangerous defects and reducing risk of accidents or injury
Providing effective safety barriers and fencing to protect staff and assets
Ensuring the site is accessible to people and vehicles, and that they can move around it safely
Fitting safety glass wherever it is required
Ensuring floors, stairs and corridors are free of obstructions and trip hazards
Maintaining outdoor routes and removing hazards during bad weather, i.e. ice, snow, other debris
Providing effective drainage wherever needed
How do I identify the risks to my building and infrastructure?
A thorough risk assessment should identify many of the vulnerable areas within a facility, including areas at particular risk of repeated incidents, such as narrow vehicle routes or busy zones where there is an elevated risk of vehicle impacts.
Jump to: Finding infrastructure safety systems: What should I do?
It's important to understand what is meant by workplace infrastructure as this can help you to better identify the correct types of protection. At A-SAFE we can help you figure the right type of protection for your site by providing a free, detailed site survey to assess your needs. Speak to a member of our team to arrange an appointment in person or remotely.
2. Types of workplace infrastructure protection | How to minimise damage to your building
There are multiple safety systems available that provide a high level of protection for your buildings and infrastructure. These are often created specifically for certain vulnerable areas.

The types of infrastructure protection include:
Wall protection
Corner protection
Doorway protection
Column and pillar protection
Specific environmental protection – cold storage, service yard, airports, car parks
Wall protection
Walls may not seem especially susceptible to damage but even minor impacts can create additional risks for people. Structural integrity may even be compromised if they are subjected to repeated incidents.
While scuffs and scrapes to walls might only be minor, it's important to consider the potential problems they can cause. Crumbling brickwork and plaster make cleaning and hygiene more difficult, while larger pieces of debris could be a trip hazard. Furthermore, the resulting excess dust could cause irritation and illness in people with allergies.
It is also worth considering additional consequences of such damage. Walls that receive repeated impacts will need to be repaired or maintained more often to prevent further deterioration. This maintenance could mean that areas of a site may have to shut down or cease operating until repairs are completed. This necessary downtime can impact heavily on production.
Wall protectors, shields and buffers are a quick and effective way to defend walls from unwanted impact damage. While the cost of this protection will vary, it's worth considering how effective it is, as products that offer greater longevity will require less maintenance.
Learn more: Wall protectection
Corner protection
Wall corners in your facility can be particularly vulnerable to damage – especially in busy areas where forklift trucks, side loaders and other materials handling equipment are especially active. Corner damage can cause severe weakness to the structural integrity of buildings, so it's important to protect them where possible.
Corner protectors function in the same way as wall protectors but provide defence from two angles. For areas where larger vehicles are in operation, you may need heavy-duty protection. In this case, bollards can provide a more rob ust level of defence for corners.
Traffic barriers can also be used to deflect impacts away from corners and can be even be configured into funnel formations to help direct vehicle traffic away from vulnerable areas.
Learn more: Corner protectors
Learn more: Bollards
Doorway protection
As with corners, doorways can also be highly vulnerable to impacts from site vehicles and other equipment. Doorway damage is especially hazardous in supporting or load-bearing walls. If the damage is severe enough, it could even compromise the structural integrity of the building.
Using bollards and traffic barriers to defend doorways is an incredibly effective way to prevent unwanted damage. Funnel formations of traffic barriers allow vehicles to pass easily through doorways without passing closely to door edges.
Another hazard to look out for is access for materials handling machinery such as forklift trucks. When they are in operation and carrying a load, it's important to ensure that the height of the truck forks and its load do not exceed the height of the doorway. If they do, this could not only cause damage to the doorway, but also put the vehicle operator, nearby pedestrians and the load itself at severe risk.
Height restrictors are a good way to protect the tops of the doorways from unwanted impacts. It is also possible to purchase height restrictors with audio and visual indicators to warn vehicle drivers when they are too close.
Learn more: Doorway protection
Learn more: Height restrictors

Column and pillar protection
Support columns and pillars are among the most vulnerable parts of a building's structure. As standalone structures that are often regularly positioned through a facility, there is a significant likelihood of them being struck by machinery, vehicles or other substantial forces. It is important to ensure they are properly protected.
Column and pillar protection are essential and provide the necessary defence from site vehicles and other unwanted impacts. Protection that absorbs and dissipates the force of an impact is ideal. Some stackable types of protection can even be custom configured to protect columns of different widths, shapes and heights.
In areas where large vehicles operate, you may need heavy-duty protection. In this case, robust traffic barrier configurations can provide additional defence for structural posts.
Learn more: Column and pillar protectors
Learn more: Column barriers
Specific infrastructure environment protection
Different industries require types of protection that are specific to their environments. While requirements can differ substantially between industries, some of the main types of environment-specific protection to look out for are:
Cold storage protection
This protection can take the same form as many of the products mentioned above. Bollards, pedestrian barriers, traffic barriers and height restrictors can all provide effective protection in cold storage facilities; however, they must be engineered to operate effectively at lower temperatures.
The colder temperatures needed to maintain the stock within cold storage areas can have an adverse effect on conventional safety systems, weakening their structures, making them brittle and prone to failing during an impact.
Safety solutions that are designed to handle the temperatures in cold storage units are perfect for providing the same level of protection as standard safety systems while often also delivering additional hygienic benefits suitable for the food and drink industry.
Learn more: Cold storage protection

Service yard and dock protection
For distribution and logistics companies, there can be an incredibly high volume of activity in their service yards and at loading docks. Therefore, additional protection is required to ensure no unwanted damage occurs to this vital infrastructure.
Bollards, dock rollers, trailer plates, height restrictors and truck stops can all provide valuable defence against large articulated vehicles. Dock gates can provide the necessary protection needed for docks and loading bays, while also allowing workers to control access to the site.
Learn more: Service yard and dock protection
Airport protection
Airports present a unique workplace environment that needs specific protections. Busy airport facilities such as the baggage handling areas as well as the concourse and apron contain a wide range of vehicles and pedestrians - it isn't just holiday makers and airplanes but the workers, various baggage dollies and trucks and maintenance teams that all operate on site. As airports are subject to strict safety regulations, it is essential that they have the necessary protections on site to minimise the risk of accidents or damage to infrastructure.
There are a range of specific airport traffic barriers that have been designed to withstand the force of heavier vehicles, such as fully laden baggage dollies. In addition to this, there a variety of column protectors and barriers that can defend large structures, such as flood lights from unwanted impacts.
Learn more: Airport protection
Car park protection
Cark parks are another area of a facility that should be properly protected. It goes without saying, especially at larger companies, that car parks experience a high volume of traffic, therefore traffic barriers should be installed to minimise the damage to infrastructure as well as employee vehicles. Many of these protections do not have to be industrial strength, however certain sectors have public car parks, which mean there are always many cars and pedestrians on site. It is therefore important that effective car park protection is provided in environments such as:
 Airports
Shopping centres
Hospitals
Multi-storey car parks
Traffic barriers are available at different heights to provide various levels of protection for walls and structures, swing gates provide the necessary access for pedestrians while bollards can help to protect both people and structures at sharp bends and tight corners. There are also a range of car park-specific protections, such as anti-climb barriers and anti-climb mesh, which reduce the risk of people taking shortcuts or children climbing onto the rails and falling it the path of cars.
Learn more: Car park protection
Now you're aware of the various types of workplace protection, it's easier to understand which products and systems would best help you. Talk to a member of the A-SAFE team to find out more about our range of advanced polymer safety systems and the levels of protection they can provide.

3. Finding infrastructure safety systems | What should I do?
Sourcing the right safety systems can take time but once you have identified the vulnerable areas of your site, narrowing down your options is easy. In this section we will look at the right way to evaluate your needs.
Perform a risk assessment
The first thing you can do to understand what systems are needed to protect your infrastructure, is perform a thorough risk assessment of your site. By understanding which areas of your site are most vulnerable, you can start to plan for the protections you need.
Travel around your facility looking for elements of your building that show signs of wear and tear – these will be the areas that are susceptible to impacts from vehicles and therefore most in need of protection. Other good ways to identify risks and hazards include:
Seeing the site during busy operational hours to see where risk is increased
Talking to workers to understand their issues
Looking at accident and incident logs to find common occurrences
Understand your budget
Firstly, it's important to understand what your budget is for the necessary safety measures. By identifying this early on, you can start to focus in on the products that are needed most.
It may be that you have no set budget for safety equipment, instead you need to seek sign-off from upper management. If this is the case, you may need to draft several versions of proposed investment plans – showing differing levels of protection and the risks that can be controlled by each. That way management can see how more investment can result in a safer and more productive workplace.
Making the most of your budget
It is not always possible to allocate all the funds needed for safety systems, especially in businesses where turnover and profits are low. However, this is no excuse for not investing in the necessary protection. It does, however, mean it's important to look for ways to minimise the need for financial investment.
It could be that certain vulnerable structures could be better avoided by site vehicles through better traffic management measures. This could be creating one-way systems or rotas that determine how many vehicles are in operation in a specific area at any one time. By finding these relatively simple and low-cost measures, you can divert a greater amount of your budget to areas that need actual investment.
Research safety system suppliers
There are a range of safety system manufacturers and suppliers available, so it is important to perform the necessary research needed. This will help you to identify the right types of protection for your facility, as well as understanding which companies have a good track record.
It is also important to consider:
Products that have been approved by trusted authorities and testing bodies
The relevant safety standards for various types of workplace protection
Manufacturers that are compliant with these standards and regulations
Testimonials, reviews, and case studies from satisfied customers
Suppliers that can provide additional site surveys and assessments
Installing safety system
Many industrial facilities have their own internal maintenance teams, if this is the case then you may have everything you need to install new safety systems properly. Safety manufacturers should supply detailed instructions for installation, possibly even instructional videos, to ensure your protections are as effective as possible.
Some suppliers have their own installation teams and, where possible, it is best to utilise their skills as they know these products better than anyone. This means they are guaranteed to install these products properly to provide the most effective level of protection.
Make sure to enquire about installation with your suppliers to see what services they can offer.
A-SAFE is the world's leading manufacturer of industrial workplace safety protection. With a range of systems that have been approved by TÜV Nord and comply with the relevant regulations, we can protect factory and warehouse infrastructure effectively. We can assist you with identifying the potential risks on site and our installation teams can ensure your building is properly protected. Speak to a member of our team to find out about our on-site and remote surveys, as well as our award-winning safety products.
Protecting Workplace Infrastructure | A summary
It is vitally important to protect workplace infrastructure. Not only will this minimise damage to structures, surfaces, and key power supplies, but it will also reduce the risks to your workforce and valuable assets. We hope our guide has given you some useful considerations so you can start to implement effective safety measures on site.
At A-SAFE, we can help you protect your buildings and infrastructure with a range of world-leading polymer safety systems. Whatever your needs, from column and corner protection to service yard safety and traffic barriers, we can help. Our safety barriers are certified by TÜV Nord and PAS 13 compliant. Contact a member of our team to find out how we can help you. Give us a call on (443) 776-3472, email us at [email protected] or use the contact form below.