Making the safest and most advanced workplaces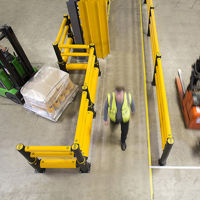 Protecting people
Keep people safe, reduce risk and drive efficiency with industrial-strength guardrails and barriers that flex upon impact, absorb vehicle energy, and then reform for continued protection.
Reducing operating costs
Reduce maintenance costs, repairs, replacement and downtime with advanced guardrails that do not corrode, rust or fade, never need painting and bounce back after impact.
Safety compliance
Choose safety barriers that are rigorously tested and independently certified to recognized global standards so you can be sure of their performance when it is needed most.