If you're investing in safety barriers for industrial protection, it can be useful to understand the different types of product available and the applications to which they are best suited. This way you can be sure you choose the right protection for your specific site safety needs.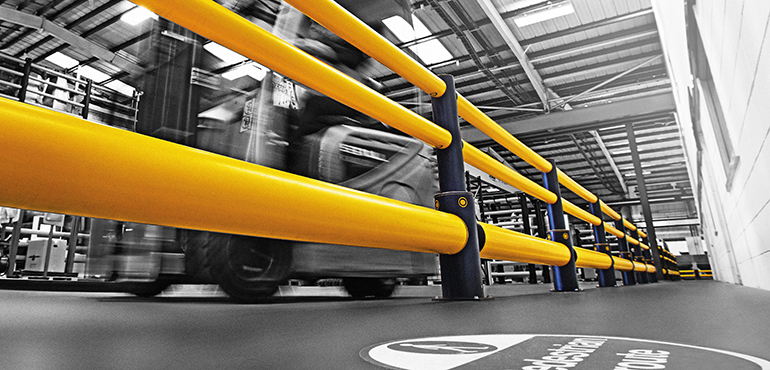 You can read the full article or jump ahead to a relevant section: 

1. Which workplaces use safety barriers? | Industries and sectors
Safety barriers are ideal protection for any workplace or facility where high volumes of site vehicles share space with pedestrians and assets such as machinery.  
Types of workplace that utilise safety barriers
Factory Safety Barriers
Factories are among the workplaces with the highest volumes of workplace vehicle traffic.  At any time, there can be multiple forklift trucks, pallet trucks and other materials handling vehicles moving around a facility. They do not operate in isolation, but alongside all the people working on site. This proximity means there is a high risk of impacts between vehicles and workers. Therefore, safety barriers are essential for segregating people from vehicle hazards and protecting them from accidental impacts.  
Warehouse Safety Barriers
What is true for factories is also the case for warehouses. At distribution and logistics facilities, the number of vehicles operating on site can be significant. They can include not only forklifts and reach trucks, but also heavy goods vehicles and vans. Furthermore, warehouses demand additional protection from vehicle impacts – specifically around warehouse racks and the high volumes of goods stored on them.  
Airport Safety Barriers
Many vehicles operate simultaneously on site at airports. From the aeroplanes themselves to the assortment of buses, baggage trucks and fuel tankers needed to support them. Therefore, effective safety barriers are as important on the airport apron as they are in essential baggage handling halls.
Car Park Safety Barriers
It will not come as a surprise that car parks see high volumes of daily vehicle traffic. This can not only pose a risk to pedestrians and parked cars, but also to infrastructure. Having the right protection is therefore essential. A large percentage of knocks and bumps that occur in car parks will be to walls, columns, corners and other vulnerable areas of the building or structure. Car park safety barriers and bollards installed in these areas will minimise the risk of collision damage.  
Which industries use safety barriers?
As previously discussed, any industry that uses site vehicles and other materials handling equipment would benefit from safety barriers to protect people, stock, machinery and infrastructure. These include: 
Manufacturing
Safety barriers for the manufacturing industry are often heavy-duty and designed to cope with busy facilities and FLT traffic. Depending on factors such as impact risk, a combination of pedestrian and traffic barriers are usually used to segregate the workforce from vehicles and protect vulnerable machinery or infrastructure around a facility.  
Automotive
The use of safety barriers in the automotive industry is much the same as within manufacturing. The automotive industry relies heavily on automation with large assembly lines producing cars and vehicles at a constant rate. Therefore, safety barriers are essential for protecting not only the crucial and valuable production robots on the assembly line but the finished goods, which are also high value. Barriers can be used to designate clear routes through the site and diverting traffic and staff away from production areas, as any incidents that occur on a production line would disrupt its output.
Food and drink
Manufacturers of food and drink goods require the same types of facility protection as other manufacturers however, they also have additional requirements. Cold storage safety barriers are guardrails that work more effectively at lower temperatures unlike normal polymer and steel barriers which can become brittle. These barriers are important for freezer units and cold storage facilities that allow access to forklift trucks and other hand-operated materials handing machinery.  Safety barriers that are hygiene-sealed are incredibly important in these facilities as they limit the potential for bacteria and germs to spread.  
Logistics and distribution
Logistic and distribution companies often have two types of vehicle traffic in operation on site. The first is site traffic such as forklift trucks and other materials handling vehicles. The second is the suite of vehicles that come to collect goods and deliver them. Both present their own problems, such as damage to loading docks and dock doors, therefore it is essential that any distribution facility has safety barrier solutions for every eventuality.  
Car Parks
As we have already discussed, public and private car parks and parking lots require safety barriers to protect the building or structure itself, to reduce the need for maintenance or repair. Furthermore, safety barriers can help to minimise damage to vehicles in the event of an impact. 

Whatever your industry or workplace set-up, we can provide effect safety barrier protection for vulnerable areas of your site and vital stock and equipment. Our team are happy to pay you a visit and undertake a site survey to identify the correct safety systems for your needs.  

2. Safety barriers in industrial facilities | What needs protecting?
Safety barriers are used to protect a wide range of assets at industrial facilities. It's important to consider those assets - who or what is being protected - in order to find the right safety systems.
What areas of a facility require safety barriers?
There are various elements of a factory, warehouse or industrial site set up that require additional protection from vehicle impacts. These include: 
Guardrails and safety barriers with handrails are ideal for acting as a protective fence between workers and vehicles. It is crucial that all public walkways and routes are lined with safety barriers whenever they run alongside vehicle routes and crossings. 
Machines are an essential part of a factory, so it is important they are properly protected from vehicle damage. Using safety barriers or bollards is a good way to ensure machinery is shielded from potential impacts.  
Often the most vulnerable parts of a facility are its structural elements, such as walls, corners, columns and pillars. These can be susceptible to repeated impacts from vehicles – especially in busy sites with a high volume of traffic. While the damage done to infrastructure might not be as immediately severe or disruptive as that to machinery, the effects of repeated impacts can build. Over time, this will weaken structures with each collision. A range of safety barrier options are available, which can provide the necessary protection. These can include low-level barriers, column protection and specific barriers to defend against vehicle forks.  
The aim of any facility is to dispatch stock quickly to meet order deadlines and service level agreements. Therefore, it is vitally important that your stock is also protected from unwanted impacts. Whether you are using warehouse racking or stacking bulk goods in designated areas, safety barriers are available that provide specialist protection for the application.  
No matter what needs protecting at your site, at A-SAFE we can help with friendly, impartial advice and a free site survey to help you identify any vulnerable areas at your facility. Get in touch to learn more.  
3. Workplace safety barriers | What types are there?
To choose the right protection for your site, it is important to understand the different types of safety barrier available on the market. 
What types of safety barrier can be found in the workplace?
There is a wide range of safety barriers available for different needs in a factory or warehouse. The industry you work in and the type of environment at your facility will determine which barriers are best for your needs.
The types of safety barrier include:
These are often heavy-duty barriers and are specifically designed to defend against impacts from site vehicles and moving objects. These are often used to defend infrastructure and machinery.
While these are sometimes used to protect against unwanted impacts from lighter vehicles, pedestrian barriers are most often used to define walkways through busy sites. They offer additional support in the form of handrails and balustrades.
Traffic and pedestrian barriers
These are a combination of the two types of barrier mentioned above. They provide the height and support of a pedestrian barrier, while also offering additional heavy-duty protection from vehicles.  
Designed to define and protect stacked goods storage areas, topple barriers provide high level protection from falling stock and impacts from vehicles. 
Low-level barriers provide heavy duty protection from moving vehicles. They are especially well suited for use along walls and vehicle corridors. Kerb barriers perform a similar function but primarily protect infrastructure and assets from being struck by vehicle forks.
These barriers are also known as height restrictors. They provide additional protection for vulnerable infrastructure such as doorways and door frames. They double as visual height indicators to ensure only vehicles of the appropriate height go through.
These barriers function in the same way as traditional barriers and come in a variety of the types listed above. Traditional steel and polymer barriers become brittle at low temperatures which would increase the likelihood that they would fail in the event of an impact. Whereas, cold storage barriers are designed to function better at low temperatures, making them ideal for cold storage facilities and freezer units.  
These are often low-level and heavy-duty barriers specifically designed to protect warehouse racking and vital stock from unwanted impacts.
Browse our selection of safety barriers
Whatever your protection and safety needs, we have a range of solutions from racking protection to bollards, barriers and additional site support. Our team are happy to help find the right solution for you.
The Health and Safety Executive can provide further information about vehicles in the workplace.
Safety Barriers in the Workplace | A summary
There are numerous areas in any busy facility that need protecting. Thankfully, there is also a wide range of safety barrier products, purpose-designed for every application, industry, sector and facility. Once you understand the potential hazards and safety requirements at your specific site, you can begin to identify the right solutions. 
At A-SAFE, we have a range of safety barriers designed to provide the ultimate protection no matter what your industry. From airport and logistics sites to factories and other industrial facilities, we can protect your people, machinery, stock and infrastructure. Call our sales team on (443) 776-3472, email us at [email protected] or use the contact form below and find out what we can do for you.