In this guide, we will cover lots of queries and questions around finding, buying and installing the most effective safety guardrails and barriers for your facility.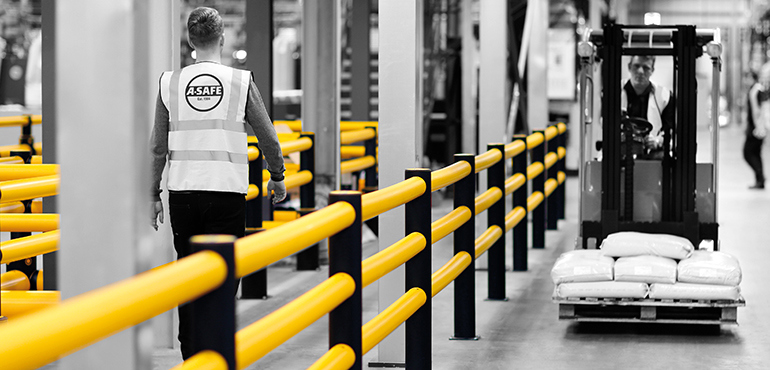 You can read the full article or jump ahead to a relevant section:
1. Safety barriers | What I need to know
If you're new to the world of safety barriers and industrial protection, here are some FAQs.
What is a safety barrier?
A safety barrier is a reinforced fence structure that is used to protect items of value, such as people, buildings, machines and stock from unwanted damage caused by vehicles and other moving objects. Safety barriers can also be used to create designated routes and segregate different types of traffic, such as walkways for people and vehicle routes.
The components of a safety barrier
While barriers can differ between manufacturers, the basic components are:
The end post
The mid post
The rail
Where are safety barriers used?
Safety barriers are used across a range of industries and sectors, as well as various workplaces. They are mainly used in busy industrial facilities where site vehicles are very common, such as:
Factories
Warehouses
Distribution centres
Airports
Car parks
Learn more: Safety Barriers in the Workplace | Protecting Your Facility
What are safety barriers used for?
In most cases, safety barriers are used for:
Protection
Segregation
Defining routes
Pedestrian support
Protection
The most common use for safety barriers is to provide protection. This can be protection for any number of things, such as people, machinery, vulnerable structural spaces in a building or facility, as well as stock and goods. Safety barriers provide protection from vehicles and smaller person-operated materials handling equipment such as pallet trucks.
Segregation
Another important use for safety barriers is segregation. This refers to the separation of one object or person from another. Safety barriers can be used to segregate:
People from moving vehicles
Workforce from dangerous or harmful areas and machinery
One workspace or station from another
Opposing lanes of traffic
Defining routes
As with segregation, safety barriers can be used to identify and clearly mark out specific routes and paths. This can include vehicle routes throughout a facility, safe walkways for staff and visitors as well as more specific routes such as one-way systems in busy sites.
Pedestrian support
In addition to creating pedestrian walkways, safety barriers also provide necessary support for foot traffic. Most pedestrian barriers include a handrail for additional support, allowing people to cross facilities more easily.
If you're looking for safety barriers to aid you in traffic management, pedestrian segregation or protection, then A-SAFE are market-leading, having created the world's first advanced polymer safety barrier. If we know anything, it's creating barriers that make workplaces safer for everyone.

2. Types of safety barrier | What are my options?
This section will cover the various types of safety barriers and the different levels of protection they offer. In additional you'll also learn about the variety of barriers and the types of materials used in barrier manufacturing.  
What types of safety barriers are there?
Below is a list of the various types of safety barrier:
Traffic barriers
Traffic barriers are used to segregate lanes of traffic and create clear vehicle routes. There are many different types of traffic barrier – from portable temporary barriers to fixed barriers. These can be found both within facilities and on roads.
Crash barriers
When people refer to 'crash barriers' this is usually in relation to the types of guardrails and barriers that line highways and busy roads. Often made from stainless steel or another type of metal, these guardrails cover long distances and provide rigid protection against stray vehicles.
Pedestrian barriers
Pedestrian barriers refer to the types of barriers that usually define pedestrian routes and walkways through busy facilities and areas with increased vehicle activity. Not only do they provide protection for people walking alongside them, but they provide additional support for pedestrians usually in the form of a handrail.
Guardrails
There is no difference between a guardrail and a safety barrier. A safety barrier is simply a blanket term that includes the guardrails found along roadways.
What are safety barriers made of?
There are different materials that are often used to make safety barriers. The most common types are concrete, steel and plastic.
What is the difference between concrete, steel and plastic safety barriers?
Although concrete, steel and plastic safety barriers perform the same fundamental role, the levels and types of protection they provide can vary with each material. 
Concrete safety barriers
Concrete barriers can be installed in specific places and are sometimes cast in place. They are secured to the floor with cement. Sometimes concrete barriers are reinforced with steel or metal to help provide more robust protection from crashes.
Steel barriers
Safety barriers made from galvanized steel are incredibly common – especially at roadsides. These often take the form of long stretches of barrier that segregate traffic and provide protection from vehicles moving in different directions.
Plastic and polymer barriers
Plastic safety barriers are often referred to as 'polymer safety barriers' This refers to the type of material they are made from. Some polymer barriers are used as temporary protection while others are more robust and designed for long-term industrial protection. These polymer safety barriers are designed to defend against collisions and then return to their original shape so they can be used again.
If you're looking for safety barriers that are robust, reliable and cost-effective, then A-SAFE polymer barriers can provide long-term protection with no maintenance. Speak to one of our team to find out how our safety solutions can help you.  
3. Safety barriers and protection | What can they defend against?
Now you know a little more about safety barriers and the types available, it's useful to understand what they protect against and what can cause a barrier to fail.
What can safety barriers protect against?
Safety barriers for industrial workplaces are designed to withstand impacts from:
Cars
Trucks
Forklift Trucks
Pallet Trucks
Other onsite vehicles
A safety barrier is designed to protect vulnerable objects from unwanted impacts with moving vehicles, however the amount of force a safety barrier can handle varies depending on the type of barrier.
How do you work out the strength of a safety barrier?
Most manufacturers provide an impact rating with their safety barriers. This rating is a number that is measured in joules. When safety barriers are tested, this figure is reached by multiplying the velocity of a vehicle by its weight, while factoring in the angle in which it impacts the barrier. These ratings offer a guideline for the size of force a safety barrier can withstand.
What can cause a safety barrier to fail?
If an object changes speed or weight, this will affect how successful a safety barrier is at deflecting an impact.
For example:
A safety barrier might be able to withstand the force of a forklift truck provided it weighs 4.4 tons or less and is going at 5 mph or less. However, if the driver increases the speed of their vehicle, or there is additional weight on the vehicle, this could cause the safety barrier to fail.
Therefore, it is important that strict rules around vehicles speeds and maximum weights are adhered to on site. This will ensure that safety barriers can work to their optimum specifications.
It's important to understand what a safety barrier can defend against, so you can be sure they provide effective protection. At A-SAFE, all our products come with impact ratings that have been rigorously tested – and our website even includes an interactive joules tool to help you see a products impact energy performance at a range of angles. Our team are always on hand to help. 
4. Safety barrier standards | What are the regulations?
When investing in safety systems, it's important to understand what standards and regulations are in place to help you invest in effective products from trusted suppliers.  
Are there safety standards for safety barriers?
PAS 13 is the code of practice for safety barrier installation and testing. It was created by the British Standards Institution in conjunction with a steering group of blue-chip companies and the Health and Safety Executive. A-SAFE was the technical author and sponsor of the paper.  
It was designed to help people apply the correct configuration of safety barriers on site as well as standardizing the guidelines around testing safety barriers. The impact ratings of PAS 13-compliant products can be trusted as they must meet specific criteria. 
All A-SAFE safety barriers and bollards are PAS 13 compliant, meaning you can trust them to protect your staff, machinery and infrastructure from unwanted impacts.  
Safety Barriers | A summary
Hopefully, this has given you some insights into the basic elements that make up safety barriers, and the various types of industrial barriers available.
At A-SAFE, we have a range of safety barriers for you, whether you need warehouse protection, effective traffic management, pedestrian segregation support or heavy-duty protection for machinery and structures. Call our sales team on (443) 776-3472, email us at [email protected] or use the contact form below and find out what we can do for you.