If you want to install industrial bollards, it is important to understand which type will best meet your facility's needs.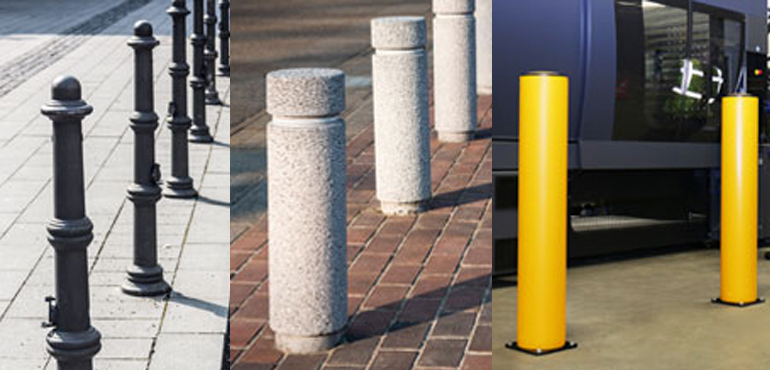 What are the different types of bollards?
Bollard strength can vary hugely from one manufacturer to another, so it's always important to find out the size of the force they can withstand and whether it will be suitable for your workplace needs.
A key factor in how well a bollard can perform is the material it is made from. This will affect its strength, resilience and return on investment. There are three main types of material used:
What is the difference between concrete, steel and polymer bollards?

Previously, concrete and steel bollards were commonplace in traffic management. In recent years, polymer bollards have increased in popularity, as they are long-lasting and low maintenance. Many industrial facilities are using them to protect their assets and infrastructure from workplace vehicles.

While concrete and steel are strong and can defend against vehicle collisions, they are often one-use safety products. Even a minor impact from a forklift truck can deform them. They will often need replacing after every impact. Polymer is a flexible type of plastic that can bend with the force of an impact and return to its natural shape, making it ideal for busy workplaces with the potential for repeat impacts.
Learn more: Comparing Concrete, Steel and Polymer Safety Bollards
At A-SAFE, our safety products are made from our unique three-layer Memaplex™ polymer material. They are specifically designed for the busiest industrial facilties, and are tested to BSI PAS 13 standards.
Learn more: The science behind our products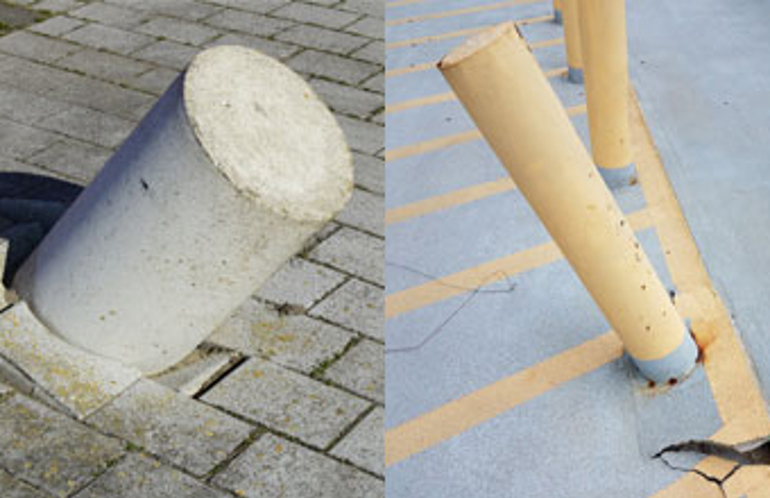 What types of bollards can be found in the workplace?
Bollards have a number of uses within the workplace, including:
Guiding traffic
Defining boundaries
Protecting people and property from vehicle impacts
There are two main types of bollard found in industrial settings, these are:
Standard bollards
Heavy-duty bollards
As the names suggest, the main difference between standard and heavy-duty models is down to the size of the force they can withstand. Heavy-duty bollards are often used in areas where larger vehicles operate, or the standard speed limit is higher.
Are there any other types of bollards?
Other types of bollards available reflect the types of scenarios they are found in. Some of the most common types are:
Cold storage
Retractable/telescopic
Removable
Solar lights
Extended
Cold storage
Cold storage facilities need the same level of protection as the rest of a factory or warehouse but require safety systems that can work well at lower temperatures. In colder environments, specialist bollards are required as standard ones will become brittle and weak in the cold, making them more likely to fail upon impact.
A-SAFE Cold Storage bollards are purpose-engineered for cold-storage facilities and are designed to protect structures and equipment from impact damage. They also provide a strong physical presence to maintain driver attention and restrict or guide vehicles and pedestrians.
Retractable
Retractable bollards can be used to restrict vehicle access during certain hours, and are often found at entry and exit points. They are typically used in streets, parking spots, and areas surrounding a facility.
These bollards can be extended when in use to prevent entry and guide traffic, and when not in use retract into the ground.
Removable
Similar to retractable bollards, removable bollards are perfect for temporary use. They, however, are low-weight and are light enough to lock and unlock into below-ground receivers. These bollards can be easily removed and stored elsewhere when not in use.
Solar lights
Solar light bollards are a great solution for outdoor lighting. They provide safety and visibility, are easily installed and are environmentally friendly. With the assistance of a controller, the system can adjust the lighting accordingly depending on the time of night, the activity of the area
Extended
This refers to bollards that are much taller than traditional installations. They are most common in areas where protection is needed to a taller height, for example: in busy service yards where tall articulated lorries operate. If a lorry needs access to a loading door, it is common to use extended bollards to ensure the door frame is properly protected.
In addition, extended bollards can provide visual guidance for drivers who are elevated higher than normal, to help them avoid vulnerable assets or infrastructure.
At A-SAFE we have a range of flexible polymer bollards and safety systems to meet a variety of needs. Find out more about our heavy duty and cold storage bollards by speaking to a member of our team.
Make an enquiry or complete the below form for more information.